Volkswagen Diecast is a name that has been one of the most trustworthy brands when it comes to model cars. Many people still find it fascinating as it's a classic that never goes out of fashion. Here is our favorite selectien of Volkswagen Diecast model cars. The selection consists of VW Buses and Beetles.
1:18 Volkswagen Kafer "Motorhome" Yellow with White Camper Body
This Volkswagen Diecast Beetle is made from pure resin material along with a few parts which are made from plastic. The tires are made from authentic rubber which makes it even more glamorous. Moreover, to make it appealing and realistic, details have been added which make this camper car look wonderful. The dimensions of Volkswagen Camper Car are 10 inches long with 3.5 inches of width. This motorhome camper car will make it a perfect present for VW fans and enthusiasts. Moreover, it can be a wonderful Christmas gift too.
Nowadays these vehicles are real eye-catchers. They are the perfect companion when you start2fish.
1:18 1963 Red Volkswagen T1 Bus Diecast model car by Welly
This model is a version of the microbus that was introduced by Volkswagen in 1963 and became a hit for public transport as well as personal use. You can clearly see the details of the van which resemble the exact model. Moreover, the doors along with backdoor open which let you peek inside the van. The Bus is made from diecast material whereas some parts are made from plastic.
The length of the Diecast Volkswagen bus is 10 inches in length and 4 inches in width. The tires of the bus are made from real rubber. And don't forget the steering wheel! You can steer your Diecast Volkswagen Van.
1:18 Volkswagen T2 Pickup with Soap Boxes Limited Edition to 1000pcs Diecast model car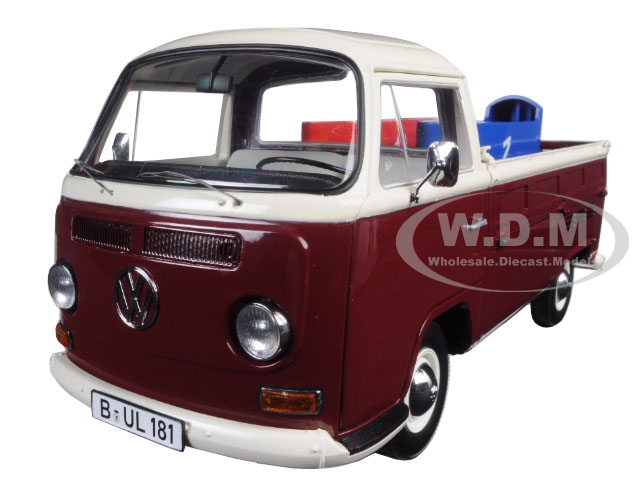 If you are looking for diecast Soap Boxes limited edition model of Volkswagen pick-up then this one is your perfect choice. This Diecast VW model is authentic and mimics the original pick-up. It is white and maroon in color and will look stunning with the rest of your collection. The length is 11 inches whereas the width is 4.5 inches. This is one of those perfect gifts that you can get for people who have a knack for a Diecast VW Bus.
1:24 Volkswagen Type 2 (T1) "Kundendienst" Delivery Pickup Truck Green VW Diecast model car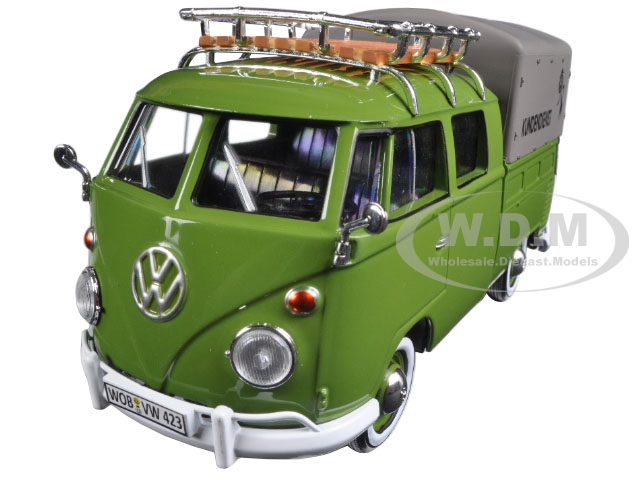 This is a model of the delivery pickup truck that has been another one of Volkswagen classics loved by the folks back in the days. This Diecast VW Bus is 7.5 inches in length and 3 inches in width. It is a sturdy toy that can be displayed around the house. Whether you are buying it for decoration, collection or present, it will be the perfect choice. Not only does it have a unique color but the built is so detailed that you will never stop looking. It has all the aspects incorporated that were once part of the Volkswagen pick-up truck.
1:18 1963 Volkswagen T1 Microbus "Volkswagen Porschewagen" Blue Diecast model by Welly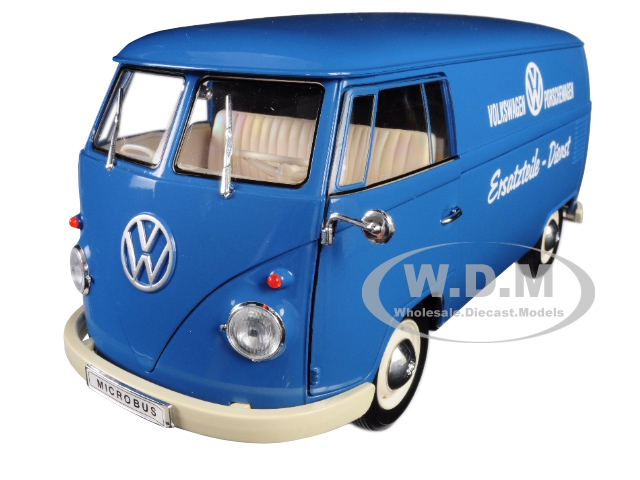 The 1963 Volkswagen model of Porschewagen simply cannot be overlooked. The striking blue color has the precise look of the original one. It is 9 inches in length and 3.5 inches in width. Moreover, you can see the details which are intricately placed to make this model look exactly like real life Volkswagen Porschewagen T1 Bus. The steering wheel is moveable whereas the tires are made from rubber. Another interesting thing about this is that the front doors and rear gate open. You can take a look inside and marvel over the details.
1:24 Volkswagen Diecast Bus Delivery Van Flower Power car model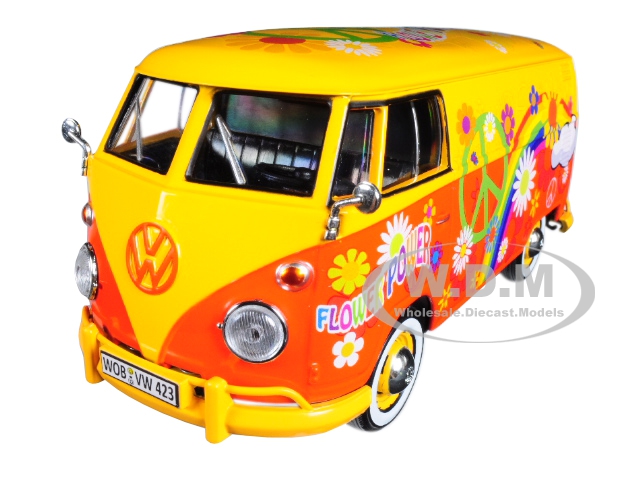 Are you looking for something cheerful and perky? This yellow and orange delivery Van called Flower Power is the answer. It has an opening rear gate as well as rubber tires. This is a brand new box of the Volkswagen Flower Power with intimate details for the interiors and exteriors. Furthermore, it is inches in length and 3 inches in height.
Because of its fun and cheerful exteriors, it makes for a perfect diecast VW Bus for children. Even adults love this blast from the past.
1:24 1966 Green VW Beetle Diecast model car
There is no way to overlook this 1966 VW Beetle Diecast model. This is a plain Volkswagen Beetle which is loved due to its classic popularity. It is 3.5 inches in width and 6 inches in length. Moreover, this brand new box of diecast VW car has all the details like the steering wheel and gear which are copied from the real models. Whether you are buying it for yourself or a loved one, this model should not be missed.
1:18 1967 Volkswagen Beetle Right Hand Drive Candy Apple Red Diecast model car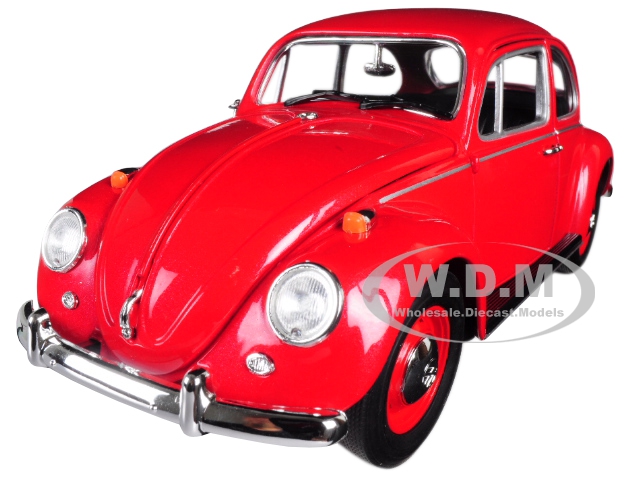 And finally, this stunning red Beetle which made heads turn when it was launched in 1967. This is a limited edition of the VK cars with chrome accents infused in it. The real rubber tires and moveable steering wheel are simply the perks that you will get along when you buy it. You will never find such a precision and true-to-scale model of this Candy Apple Beetle. It is 8.5 inches in length whereas 3.5 inches in width. To add to its gorgeous details, you can even open the bumper, doors and engine compartment.